COVID-19: For the safety of our engaged and team couples we will be running weekends at reduced capacity to observe the CDC guidelines pertaining to social distancing. All couples in attendance are expected to wear a mask as well.
Payment for the overnight weekend covers lodging on Friday and Saturday nights, meals on Saturday (3) and Sunday (1), and all materials. Dinner is not provided Friday night. Separate overnight accommodations are provided for you and your fiancée. Your reservation is not considered booked until you pay in full, so to secure your seats please pay as soon as you complete the registration form below.
Due to the stringent restrictions at the retreat center, we are unable to offer refunds for a registration. In the case of a serious medical emergency, please contact us for options. Approximately 2-3 weeks before the retreat date you will be contacted by a team couple with detailed logistics.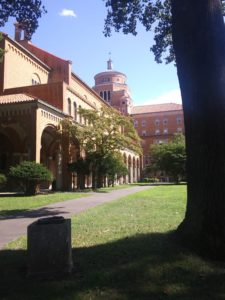 Our Retreat Center
440 West Neck Rd.
Huntington, NY 11743
Seminary of the Immaculate Conception (2-Day)
Nov 14, 2020 - Nov 15, 2020

6 spaces left